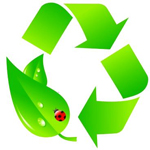 Lower Alsace offers a drop off recycling program located at the Township office at 1200 Carsonia Avenue.
>> Click here for a printable copy of the recycling rules.
Please help us keep this community service safe and sanitary by adhering to the following:
Material may not be contaminated with food.
Be sure to fill the recycling bins from the back to the front.
Please flatten large plastic jugs and cardboard boxes.
DO NOT throw bagged items into the bins, open bags first and pour your items into the recycling bins.

The following paper may be mixed together:
cardboard | newspapers | magazines | envelopes / junk mail | office paper
The following co-mingled material may be mixed together:
Clear Glass | Amber Glass | Brown Glass | Green Glass | Aluminum Cans | Tin Cans | Steel
Plastics PET and HDPE # 1 through #7 provided it is no bigger than a laundry bottle
The following items are NOT allowed in recycling containers:
appliances | lawn chairs | yard waste | flammables | fluorescent tubes | styrofoam
any type of container containing hazardous materials | pots and pans
plate glass, window glass, mirrors | any type of oil including oid rags | miscellaneous plastic
light bulbs | anything containing food or restroom waste | oil cans
---
For additional information on special waste collection facilities and events, please contact the Berks County Solid Waste Authority Office at (610) 478-6362, or visit their web site for more details: www.co.berks.pa.us/swa