About
Terry Styer
This author has not yet filled in any details.
So far Terry Styer has created 9 blog entries.
2018 Township Budget
Terry Styer
2017-12-21T14:32:31+00:00
Homeowners Guide to Stormwater Management
Terry Styer
2017-08-16T10:44:22+00:00
Spotted Lanternfly Quarantine Expands to 21 Municipalities in Five Southeastern PA Counties
Pennsylvania received nearly $3 million from USDA to combat destructive pest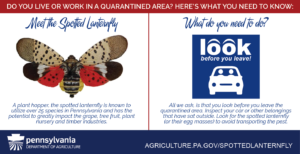 Harrisburg, PA – The Pennsylvania Department of Agriculture has added 21 municipalities in Berks, […]
Lower Alsace now included in Spotted Lanternfly Quarantine
Terry Styer
2017-08-14T08:42:07+00:00
Harrisburg, PA – In an effort to help protect stream health and aquatic life, the Pennsylvania Department of Environmental Protection (DEP) would like to remind private and public pool owners, as well as pool management companies, how to properly close their swimming pools for the season.
Discharged pool water and waters containing chlorine or other […]
DEP Reminds Pool Owners to Handle Waste Water Responsibly
Terry Styer
2017-09-14T18:32:39+00:00